Click on any question to view the answer.
What does your motto "The Music You Want - The Way You Want It" mean to us?
This is my mission statement printed on my DJ Info and my personal promise to my clients. Simply put - it's all about the two of you! I am here to serve my couples in both their outlined reception plan and their selected music. No ego here - This night is not about me. Everything that I will do (or won't do) can be determined by my Brides & Grooms as we have discussed. All of my clients are unique - and treated as such. I never assume that what worked at a reception last week will work for you at your reception this week. The reality for what I do as your DJ/MC becomes "The Reception You Want - The Way You Want It!"
Will you be the DJ at our reception?
YES - My personal name is on my contract and I will personally DJ/MC your reception. I do not book under a company name like most DJs. This legally allows that company to send ANYBODY that they want to DJ at your reception. If you don't know WHO the DJ you are paying for is, then how can you determine what price that persons qualifications are worth?
Will you play our selected music and our guests requests if approved by us?
YES - I will play from your selected list and put the music together with a good flow and mixture of songs. If approved by you, I will play any guest request that fits your "style" of music choices and will check with you before playing a request that may be questionable.
Will you help coordinate events and make any requested announcements?
YES - As your Master of Ceremonies, I will professionally coordinate and introduce your: Grand Entrance, Cake Cutting, Toasts, Prayer, Dinner, Formal Dances, Bouquet / Garter Toss, and any other announcements that you have requested. I will also work with your Photographer, Videographer, Caterer, and any other vendors that you have hired throughout your entire reception to ensure a smooth flow of events by providing efficient communication.
Can you provide me some recent wedding reception referrals?
YES - referrals and testimonials are a great way to get feedback about my DJ service. My previous Brides & Grooms are typically happy to help since they too may have asked for some recent referrals when they interviewed me as their DJ.
Do you have liability insurance?
YES - I am happy to provide my insurance certificate to your reception facility should they request it from you or me. All professional wedding DJ's should have liability insurance.
Do you have professional sound & lighting equipment?
YES - my equipment is all premium quality. Because of my electronic engineering background along with my sound & lighting sales / install experience - having premium quality sound is extremely important to me. Also, I include a subwoofer to provide a very clean, full sound that is not overpowering. My lighting is L.E.D. which is the new technology of lighting.
What is the best advice that you can offer a bride & groom looking to hire a DJ?
Many couples focus only on one question "What is your price?" Price is important, but when you are selecting entertainment for one of the biggest days of your life, the most important thing to know is WHO you are paying for. Think of your DJ as an investment toward the outcome of your reception. It will be that individual's DJ/MC Skills, Experience, Knowledge, Personality, Commitment, etc. -- that will determine the success or failure of your reception. Those same attributes of each individual DJ will also define their worth / price. Too many times I've had somebody come up to me at a reception and tell me how much fun they are having - then turn right around and say that their DJ ruined their reception. The price difference between a qualified professional DJ in STL and a bad DJ is often $200 - OR LESS! Also, once you've secured your professional DJ, allow them to do their job. Remember that you hired this person because they are really good at what they do. For me, I have always asked my clients to give me as much input as they wish to provide. Then I ask them to allow me to take their vision and put it all together by utilizing my experience. The memory that your guests will retain is determined by the skills and actions of your DJ. This is why you hire a proven professional who cares.
Can we schedule a meeting / interview with you?
YES - your fun & exciting reception begins with our 1st meeting. I will answer any questions and tell you more about how my personalized DJ services can benefit you on your wedding day. A meeting is the best way to determine if I'm a good fit for your wedding day needs. I meet with my clients in a relaxed, non-pushy way. I never really try to "SELL" my DJ services. Instead, I offer insight drawn from my personal DJ experiences at over 1200 receptions. Earning your trust by proving that I can deliver on everything that I say is how I distinguish myself. Listening to your wishes, helping you create your reception vision by providing options and guidance, and then by delivering professional execution of your reception plans on your wedding day...it all starts right now. Please call to schedule your consultation.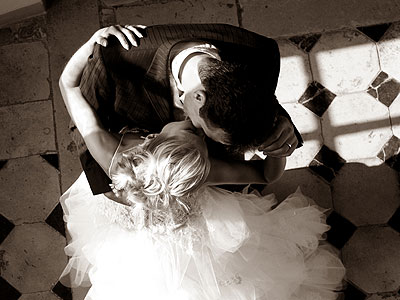 Thank you very much for a wonderful wedding ceremony & reception. You did such a great job with the coordination of both. Our guests were raving about you and your music! In addition to providing excellent DJ services, you were such a pleasure to work with. Thank you for everything — our wedding wouldn't have been the same without you!
— Erika & Darren