Why should we hire A ROCKIN DJ JIMMY HUSSEY for our wedding?
Knowing WHO is standing behind the DJ table and what their qualifications are, is the key to your successful reception. These are the defining attributes that I bring to each of my couples:
I DJ WEDDINGS - This is my full time profession. I offer 100% personal attention to my clients. I am not trying to book more weddings than anybody else. My goal is to offer the highest quality DJ/MC services in the STL area to Brides & Grooms who recognize the difference.
DJ/MC SKILLS - My best attribute lies in my ability to read the crowd and blend (beat mix) your music in a manner that keeps the dance floor jumping for guests of all ages. Professional coordination with announcements that are classy, polished, and concise is what I deliver.
EXPERIENCE - I have personally entertained at over 1200 receptions and have been employed in the music industry all my life. For over 20 years I've taken care of STL Brides & Grooms by being honest, reliable, dedicated, consistent, and hard working.
KNOWLEDGE - Holding a degree in Electronic Engineering, combined with an extensive background in Sound & Lighting principles keeps me technology savvy with DJ equipment. As a member of The American Disc Jockey Association - I attend meetings, workshops, and conferences to continually learn and grow in my DJ/MC profession.
SERVICE - Each of my Brides & Grooms receive personal service by communicating only with me through their entire wedding planning process. Your reception itinerary and music choices will be executed exactly as we have discussed in our pre wedding meeting - I serve you!
REPUTATION - In the wedding industry, my reputation is everything. Many of my referrals come from fellow vendors such as: Wedding Coordinators, Photographers, Facility Managers, Florists, professional DJ companies, etc. - but most come from my previous Brides & Grooms. I am very proud of the fact that both my clients and my peers hold me in high regard.
COMMITMENT - I promise to work very hard in every way to ensure that your reception not only meets, but hopefully exceeds your expectations. I really care about your wedding day and want it to be great! My future business, (your referral) is determined by your total satisfaction. DJing is not my hobby, nor is it my second job, taking care of Brides & Grooms is my passion.
PERSONALITY - Being blessed to serve at a job that I love is extremely rewarding for me. Fun, humor, and passion are included with each contact with my Brides & Grooms. I work well under pressure and stay focused. I will not only help keep you on task and stress free on your big day - but I'll rock your party too! Please call to set up your consultation....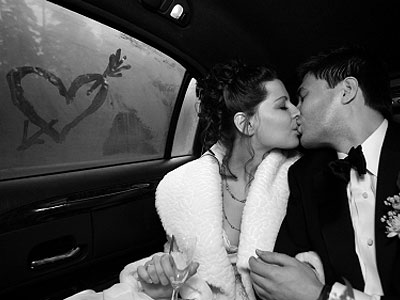 "You really made our reception a BLAST! Thank you for doing such an incredible job as our DJ. You were such a great person to plan with and we thought you were awesome at our reception. All we wanted was our dancefloor to be full all night - AND IT WAS!!! Thank you from the bottom of our hearts!" - Matt & Dana